What is Time To Quality®?
Time To Quality® is a MULTI USUER - MULTI CENTER - MULTI LANGUAGE online application in SaaS mode (in the cloud).
It allows to facilitate the daily management of the Management Systems:
QUALITY (ISO 9001)       ENVIRONMENT (ISO 14001, EMAS)    OCCUPATIONAL SAFETY AND HEALTH (ISO 45001)
FOOD SAFETY (ISO 22000, BRC, IFS)    COMPLIANCE (UNE 19601, ISO 37301, ISO 37001) and GDPR
CORPORATE SOCIAL RESPONSABILITY (SA8000, SGE21, SR10)     ENERGY EFFICIENCY (ISO 50001)
BUSSINESS CONTINUITY (ISO 22301)     ROAD SAFETY (ISO 39001)     ASSET MANAGEMENT (ISO 55001)
and other certifiable systems.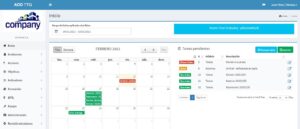 Time To Quality® is designed to achieve the involvement of all company personeel in the Management System and to allow the System Managers to direct their time to add value, minimizing the need for bureaucratic tasks and associated costs.
ACCESS
Press to access the Time To Quality® application